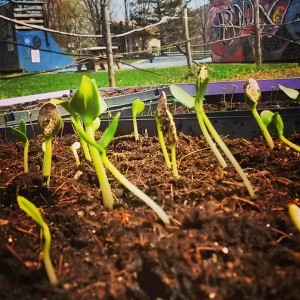 It takes a bit of ingenuity to gather all of the elements together to make a project like the Garden Project at the Hub really work. Having come from out of state to take on this project as an AmeriCorps while balancing adapting to a new place, it has certainly taken a bit more time than one would have hoped. The Garden Project is so glad to be at a point where the community is really coming together to make it all possible. We have received many donations in the last couple of weeks that are really keeping us moving forward.
Some donors we would like to highlight include Sally Burrell, Karla Flanders, Ernie Senecal, Ash Smith, and Min Brown. Sally contributed all of the potting soil that we may need and is assisting us by donating a bunch of mason jars. This expands our capacity for canning and sprouting portions of our programming. Karla and her family have offered to contribute 1 dozen local eggs to our program every week! This will help us incorporate our produce into breakfast meals and discuss the benefits of local eggs. Ernie dropped off and picked up a tiller to get our garden bed all prepped. This helped us expedite starting the garden. Ash stopped by and dropped off plant starts from Burnt Rock Farm that they were not going to use. With his continued support we will be able to flesh out the garden in places we otherwise wouldn't have the capacity to fill. Finally, just today Min stopped by looking to see the garden and we naturally fell into a process of pulling roots in the bed to aid in tilling.
While finding time to piece this blurb together more and more thanks were being added to our list. This is the kind of community that will make something like this possible. We are overflowing with gratitude for this community and look forward to continued collaboration.