The ground may not quite be frozen, the snow not quite yet a-fallin', but it is still wintertime, which means planning time for the garden. Weeds have been pulled and the kale still looks good – feel free to stop by with your teen to grab a leaf or two.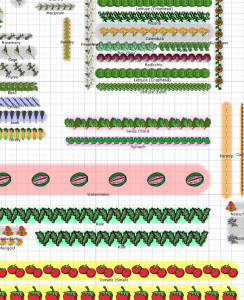 The Hub's soil tests are back from the UVM extension with pleasant results. The soil is rich in nutrients, and should only need a little bit of nitrogen this year to get it in tip-top shape.
The south end of the garden has excessive phosphorus levels, so we're looking at putting some soybeans, edamame, and a three-sisters garden (corn, pole beans, and winter squash, plus potatoes) in that end — all of these plants love a little extra phosphorus and are great nitrogen fixers.
Check out our full first-draft garden plan, and please feel free to send along any helpful tips for the layout, comments, or suggestions! So far the garden plan includes 35 different kinds of vegetables, squashes, and melons, plus a plethora of herbs, edible flowers, and pest-repellent blooms.