Taylor joined the Hub team April of 2019. After growing up in the Lakes Region in New Hampshire Taylor moved to Vermont when she began attending the University of Vermont in 2012. As the Director Taylor draws on her experience working with youth in a clinical setting to make informed decisions to around creating an environment that is inviting, nurturing, and engaging for the youth that use the space. Taylor is excited to work with the teens and community to actualize the hopes and dreams that everyone has for the Hub.
---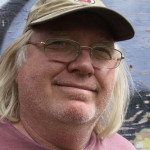 Ray Beaver, Hub Co-Founder, Volunteer
Ray became coordinator of The Hub in 1997 while working for the University Of Vermont's Expanding the Caring Community Program. This Program was a collaboration of the University Of Vermont Extension Service and the Bristol Recreation Department. There were at one time seven such efforts in Vermont; The Hub is the only one still in existence. Ray has worked for over 35 years with youth in Addison County and the Burlington area. The Hub was his idea to allow youth a place of their own to hang out and develop the relationships with peers that support their development into healthy, caring adults who have an interest in their community.